Hayan Charlston is a woodwind specialist (oboe/English horn, sop/alto/tenor/bari saxophones, flute/picc/alto flt, clarinet/ bass clr, voice, EWI), performer, song writer, contractor, and educator. Holding a B.M.  and M.M. degrees in music performance, she is a CEO and founder of her company HCwinds that provides entertainment services for various events. 
     Because of her versatility, she has performed in various different musical settings and groups playing all different styles of music as live performances and sessions. (contemporary| lounge| DJ& House mainstream| world music | electronic |dance|cover bands | ceremonial | funerals | Bar Mitzvahs| musicals | symphony orchestras |wind symphonies| jazz ensembles|Latin| rock | RnB | Persian |pop| woodwind quintets & chamber music | fashion shows|one man shows |music videos|independent films| etc). HC has worked with and contracted for some of the globally known Persian artists. She played at countless venues anywhere from the in-town venues like The Greek Amphitheater, Gibson, Nokia Live, almost every 5-star resorts event halls  and theaters in CA, to exotic countries like Dubai, and concert arenas in European countries and other national states.  
    HC's performances has been reviewed by LAweekly, Examiner, Glendale News Press, Musicals in LA, StagesceneLA, and etc, and appeared on Jazztimes magazine (Sept 2013&2014 issues, June&September 2012 issues). Smooth jazz single "Shoreline Sunrise" performed by Hayan Charlston aired on the Smooth Jazz Show 98.9 WOWE Jamz in 2012 in Michigan. She can be seen in some TV shows and independent films like The United Airline national commercial, CSI Miami, Teen Wolf, Two Broke Girls, ER, What About Brian, Without a Trace, united states of tara, Sweet 16, Yamaha musical instrument catalogs and sales posters. She is an endorsed artist of Dakota Saxophones of PJLA MUSIC Co. 
    Not only as a performer but also an educator, Ms. Charlston's teaching experience includes directing community bands, chamber groups, private instructions at music studios in CA. Her Master Classes and woodwind clinics experiences include giving Master Class concerts and woodwinds demonstrations to schools in the Orange County district supported by The Philharmonic Society of Local 47, Master Class for Tom Kubis' intro to music appreciation class at Golden West College, woodwind clinic concert at the YULA Jewish high school in Beverly Hills. She also educated many elementary schools in the downtown Los Angeles district through USC Outreach program. She is still currently active with giving master classes, private, and group instructions in person or Skype. Thanks to advanced technology of today's world, she has students all over the world! (For more info on Skype lessons, please contact her via HCwinds.com).
   HC is always working on many different projects at HCwinds Entertainment, which offers various entertainment services and packages for all occasions and shows anywhere from solo acts, duos, trios horn sections, to 7pc bands, and DJ band services. (Hayan!, GroovinTouch, Illustrious Sound, Emerald*Horns) while collaborating with other creative professional artists, bands, DJs, and entertainment companies.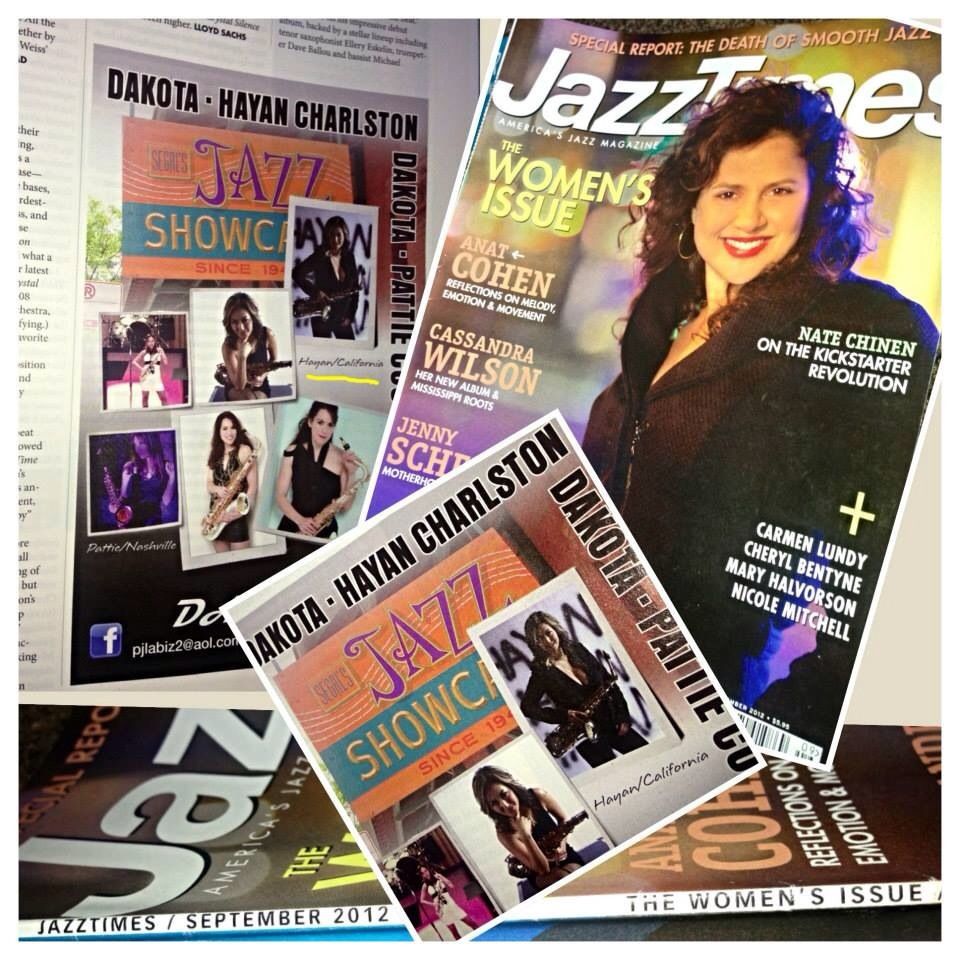 Endorsements:
Dakota Saxophones/PJLA MUSIC Co-http://www.saxdakota.com/artistinfo.html
Other offers: Fiberreed reeds, Audix microphones, Mooer pedals
Reviews/Press:
BBC Broadcast Live (March, 2014)
98.9 WOWE Jamz Smooth Jazz Shows, Michigan (smooth jazz single "Shoreline Sunrise" on air 2012)
JazzTimes (issues June 2012, September 2012, 2013, and 2014) https://www.flickr.com/photos/hcwinds/sets/72157631562524945/
StageSceneLA, April, 2012
Musicals in LA, Dec 2010
Examiner, Dec 2010
Glendale Newspress, Dec, 2010 
Backstage, 2010
StageSceneLA, Dec 2010
LA Weekly, Dec 2010
Channel ABC, Dec 2010
"...production's couldn't-be-better onstage six-piece orchestrathe production's couldn't-be-better onstage six-piece orchestra...Hayan Charlston on reeds…" Steven Stanley, April 16 2012, StageSceneLA
"Hayan Charlston's sax is heavenly..." - Candyce Columbus, Examiner Review
"Hayan Charlston on sax get a heavy workout..." - James Petrillo, Glendale News Press
"...Hayan Charlston (sax/EWI) is terrific..Onstage and throughout..." -Ellen Dostal, Musicals in LA
"Especially noteworthy are Hayan Charlston's sizzling sax and clarinet performances.."-By LA Weekly Critic, Dec.23, 2010
"Hayan Charlston (sax &ewi)- provide bang-up back-up, with an extra round of applause for Charlston's sax solo.." -Steven Stanley, StageSceneLA Review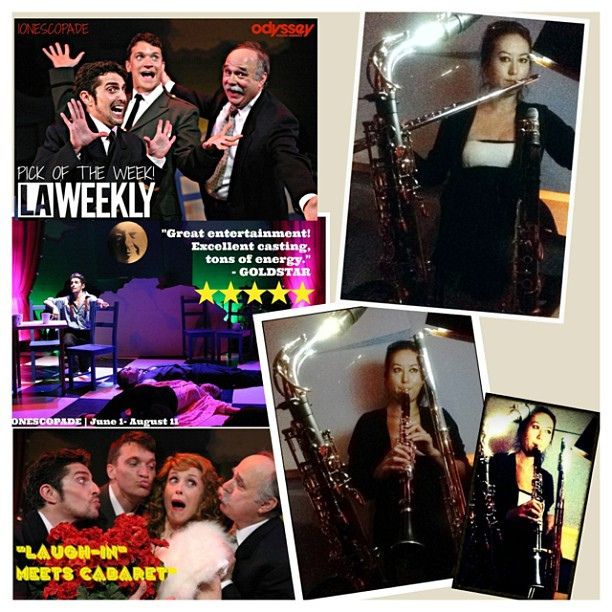 HCwinds albums/singles release: 
HCwinds Holidays! (2014), Beach Delight (2014), Shoreline Sunrise (2013), Pelican Dance (2013), Swept Away (2008), Jazz Lounge album "Jazz Sass"(2009), Classical album "Hayan Charlston Woodwind Artist"(2008)  https://hcwinds.bandcamp.com
Other EVENTS/PROJECTS worked on (alphabetical order):
Abstract Ensemble Albums (2012) 
American Music Abroad (Europe tour)
AEG events at Nokia L.A. Live
BBC London Broadcast Live (2014)
GRAMMY- VIP pre-grammy events, lounges, pre-concerts , opening acts
Illustrious Sound album singles
Joe Gallant film project 
Kazem Alemi Persian producer (woodwind tracks)
Mansour (Persian pop Vegas show tracks)
Mehrshad (Persian pop single 2013)
Michael Ziegfield's Comedy shows
Norooz Persian New Year World Tour Concerts
SpongeBob Squarepants "It's A SpongeBob Christmas" Album (released Nov 2012)
The First Joel- Billy Joel comedy (at Garry Marshall's theatre)
The Mystic Orchestra classic rock (national tour)
The World Goes Around (musical album)
United Airline- national commercial (2013)
weSparks Cancer Benefit 
WGTE public media commercial tracks
Will Farrell's Funny or Die Comedy web sound tracks
WYNGS fashion show
MUSICALS: 
1940's Radio Hour |  25th Annual Spelling Bee
A Funny Thing on the Way Happened to Forum | Aida | A New Brain | Anything Goes | Ave Q
Babes in Arms | Beauty and the Beast | Big River | Boyfriend | Bye Bye Birdie
Cabaret | Carousal | Christmas Carol | Chicago | City of Angels | Company | Curtains
Damn Yankees | Drowsy Chaperone
Evita
Fiodello | Five Guys Named Moe |  Flower Drum Song | Frog and Toad
Grease | Guys and Dolls
How to Succeed in Business Without Really Trying
Into the Woods | Ionescopade a Musical Vaudeville
Joseph and the amazing technicolor dream coat
Kiss Me Kate | Kiss of the Spider Woman
Legally Blonde 
Mac and Mabel | Man of La Mancha | Marriage of Figaro opera
No No Nannett | Nutcracker
Oklahoma! | Oliver
Pippin
Ragtime | Reefer Madness | Roaring of Greasepaint
Scarlett Pimpernell | Secret Garden | Silver Stockings | Sound of Music | Suessical the Musical |  Sweeny Todd
The Chorus Line | The Music Man | The Wedding Singer | Throughly Modern Millie
Urinetown
West Side Story | White Christmas | Wizard of Oz  | World Goes Around 
You are a Good Man Charlie Brown 
Film/ Background: CSI Miami, Teen Wolf, Two Broke Girls, Sweet 16, ER, What About Brian, United States of Tara, Without a Trace
Shared the stage with, performed for, or collaborated with (alphabetical order):
Entertainment or Theatre Companies: 
AEG Worldwide entertainment media group
American Music Abroad (Europe tour to London, Paris, Belgium, Germany, Italy, Austria) 
Andy Madadian Entertainment 
Bob Gail
Brea Civic Light Opera
Downey Civic Light Opera  
French Tuesdays
Fullerton Civic Light Opera
HCwinds 
Instrumental Casting
Long Beach Ballet Company
McCoy Rigby Co.,
Musical Theatre West 
Nikki Beach 
NRG
Odyssey Theatre Ensemble 
Pacific Light Opera
R.E.L.Production
Stargate Production 
The Mystic Music
The Troubadour Co. 
90210 Entertainment Group
Artists/Entertainers/sessions-   
Adam Pascal of Rent on Broadway (benefit concert)
Amir Efrat (Air Supply keyboardist)
Andy Madadian (Persian/Armenian artist)
Avant (RnB artist)
Barry McGuire (California Dreamin' singer)
Bijan (Persian artist)
Bob Sheppard (jazz saxophonist)
Brent Barrett (the broadway tenors)
Bruce Kimmel (musical producer)
Carol Kaye (Beach Boys original bass player)
Chandra Wilson (Grey's Anatomy)
Christiane Noll (actress, director)
Chuck Negron (Three Dog Night lead singer)
Farhad Besharati (Kanun artist)
Faramarz Assef (Persian pop artist)
Fonz, The Fonz (Henry Winkler from "Happy Days")
Garry Marshall (Falcon Theare)
Grant Geisseman (Two and a Half Men, guitarist)
Jeff Jarvis (Kendor jazz publishing company)
Jennifer Hall (saxophonist of Dancing with the Stars)
Jennifer Shellton of the Ragtime Tour (benefit concert)
Joan Ryan of Saved by the Bell (benefit concert)
John Lloyd Young (Frankie Valli of Jersey Boys Broadway)
Joseph Bwarie (Frankie Vallli of Jersey Boys Tour)
Mansour (Persian rockstar) 
Matthew Morrison of Glee (benefit concert)
Mehrshad (Iranian pop artist)
Michael Ziegfeld (comedian)
Nariman (Persian artist)
Nicole Parker of Wicked on Broadway (benefit concert)
KamyR (pop artist)
Kazem Alemi (producer, composer)
Oliver Stone (producer, director)
Omid (Persian artist)
Pouya (Persian artist)
Rick Springfield (Rock)
Samir (Perisian artist) 
Sami Beigi (pop artist)
Shahkar Bineshpajooh (Persian artist)
Shahram Shabpareh (Persian artist)
Scott Whitfield (jazz trombonist)
Teri Hatcher of Desperate Housewives (awards concert)
Tim Russ (from Star Trek)
Tom Kubis (jazz composer, arranger, educator, session player)
Will Ferrell (Funny or Die Comedy proj)
Zane Musa (saxophonist Carson Daly Show)
Groups
Abstract Ensemble (jazz)
Beats | Bells of Burbon Street | Big Noys Jazz | Bijuoux International Band | Blues Racket Band | Behmix DJ
Crazy Rhythms the Charleston Band
Emerald*Horns 
Friends International Band 
Geo Valley big band | Green Smoke (Smooth, R&B) | Groove DJ band | GroovinTouch* | Gypsy Boys
Illustrious Sound * | Industrial Jazz Group (San Diego, San Francisco shows)
Jeff Jarvis CSULB studio jazz orchestra
Loung-O-Rama 
Mystic Orchestra (Classic Rock National Tour) | Mike Henebry 20's Band
Newport Winds Quintet
Orchestra Surreal 
Pacific Saxophone Quartet | Pulse DJ band | "Pet Sounds" Orchestra (Beach Boys tribute)
Regiment Horns (Justin Timberlake's horns) | Rouge 90210 
Shawn Kayvon Instrumental Band | Smooth Touch
Symphony Orchestras (USC Thornton, LA Camerata Orchestra- radio broadcast,  Brentwood, CSULB, Bellflower, OCYSO)
The Neighbourhood  | Tim Russ Band (actor, singer) | Tino Productions (Latin, Salsa) |Tom Kubis GWC jazz 
Waves Orchestra
Velvet Rope (RnB, Cover)
Venues in CA (in alphabetical order): 
Agave Hollywood |Avalon Hollywood |Alex Theatre Glendale |Ambassador Auditorium  Pasadena| 
Anaheim Heritage Forum |Armstrong Torrence Civic Theatre
Bacara Santa Barbara | Baltimore Hotel Downtown LA | Balboa Park San Diego | Bellflower Civic Center |Beverly Four Seasons  Beverly Hotel | Beverly Wilshire | Brandview Collection Glendale | Burnight Theatre Cerritos
California Plaza | Calamigos Ranch Malibu | Camino Real Playhouse | Century Plaza Hotel |
Curtis Theatre Brea | Churches: (St. Thomas Hollywood, Malibu Seventh Aventist, Westwood Presbyterian, St. Martins Yorba Linda,  St. Andrews Newport, St.Joseph Bellflower, St. Linus Norwalk, Glendale Presbyterian,  O.C. Worship Center Orange, Bethel Grace Baptist Cerritos, ST. Maryanne Pico Rivera, Cause Community Brea
Disneyland | Downtown Disney |Downey Civic Theatre
Fairmont Newport Beach, San Francisco, Santa Monica | Fullerton Civic | Four Seasons Santa Barbara
Greek Theatre | Garry Marshall's Falcon Theatre | Gibson Amp Theatre Universal City Walk | 
Grand Del Mar San Diego
Hilton Bayfront San Diego, Beverly, LAX, Universal Studios |Humming Bird Ranch | 
Hyatt Regecy Century-Plaza
InterContinental Hotel on Avenue of the Stars
Kodak Dolby Theatre Los Angeles
Long Beach Performing Arts & Terrace Theatre | Lux Hotel Beverly
Mariott Irvine, Downtown LA | McCullum Theatre Palm Desert | Metropol Banquet Glendale
McKinney Theatre Mission Viejo | My Studios Club in Hollywood
Nokia Club LA LIVE
Olympic Collection | Orange County Pavillion Theatre |Orange County Performing Arts Center
Palladio Glendale | Pasadena Civic Center |Plumber Auditorium Fullerton
Richard Carpenter Performing Center Long Beach | Ritz Carlton (Marina Del Rey, Laguna Niguel) 
Rollin Stone Lounge Hollywood | Riviera Country Club, Brentwood
Saban Theatre | Sinai Temple, Beverly | Sheraton LAX, Downtown LA, and Universal Studios
Thousand Oaks Philharmonic Recital Hall | Tom Ham's Light House San Diego
Warner Grand Theatre San Pedro |  Westin LAX, and San Diego | Westwood Memorial | Wilshire Theatre
Zipper Hall downtown LA 
Out of Town Venues (listed by cities):
Antalya, Turkey- Jolly Joker, Mardan Palace
Atlanta, GA- Fert Center for the Arts
Dallas, TX - Verizon Theatre Grand Prairie 
Dubai- Aviation Club for International Boxing Championship, Grand Hyatt, Jumeirah Atlantis 
Frankfurt, Germany- Rhein Main Hallen Concert Hall
Ft. Lauderdale/Sunrise, FL - Bank Atlantic Center 
Hamburg,  Germany-  O2 World Hamburg Center Arena 
Houston, TX- Jones Plaza
Jacksonville, FL- Veterans Mem. Arena 
London- BBC BROADCASTING HOUSE 
Las Vegas, CA- Planet Hollywood, Mandalay Bay, Hyde at Bellagio, Paris, Mirage Theatre, Venetian, Hard Rock The Joint 
Cape Cod, MA- Martha's Vinyard
Mobile, AL-  Civic Center
NewYork - Great Neck, Long Island, Colbeh Kings Point
Orlando, FL-  Amway Arena
San Jose, CA- Center for the Performing Arts
Savannah, GA- Savannah Civic Center 
Tampa St. Pete, FL-  Times Forum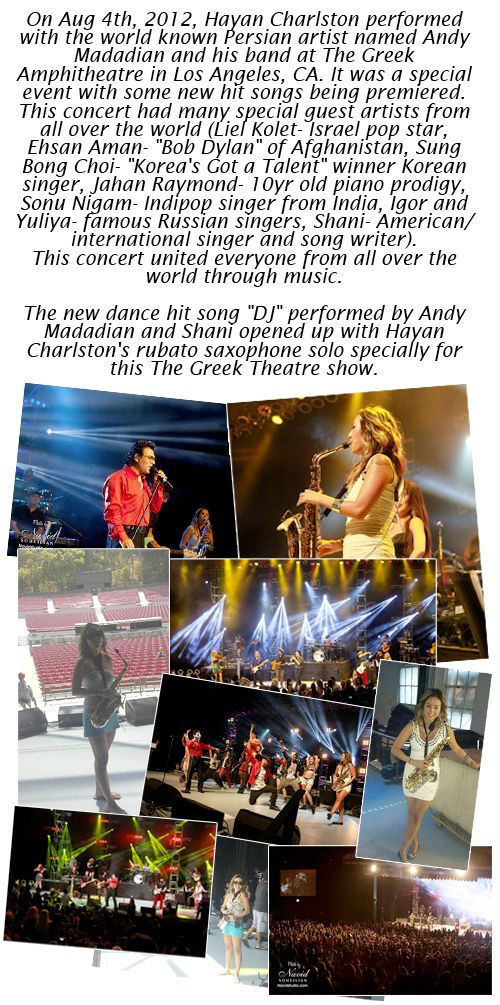 Teaching (recent to oldest):
-Private lessons and instructions and master classes on all woodwinds, In person and Skype world-wide (2000- current)
-YULA Jewish High school woodwind master class/instructions (2011))
-USC Outreach program- teaching 3rd grade recorder class (2010)
-Woodwind master class - Tom Kubis' intro to music/music appreciation class at Golden West College, Huntington Beach, CA (2008)
-The Philharmonic Society Local 47- 
concerts and instrument clinics in Orange County districts, promoting music education (2008)
-Band Directing&Individual instruction- for small ensembles/chamber groups at Fountain Valley Music Studio, Fountain Valley, CA (2006)